Direct Mail and Social Media: Better Together
Are you planning a multichannel marketing campaign? Automatically assuming you will be pairing direct mail with email? How about pairing direct mail with social media instead? Haven't thought about it? Maybe you should. What makes direct mail and social media so complementary?
Higher levels of customer engagement, regardless of channel, lead to strong customer loyalty and higher sales—and customers love social media. Print's tangibility leaves a deeper footprint in consumers' brains and results in more (and more accurate) recall. So why not pair direct mail and social media together?
While you might not think of direct mail and social media as complementary, data show that they are. High percentages of social media users use direct mail coupons, hold on to direct mail pieces for future use, and visit a store after receiving a mail piece. When brand advocates receive direct mail, they are also 50% more likely to create or share content online.
How can you capitalize on this?
Set up social media sites appropriate to your target audience (Facebook, Instagram, Twitter) and encourage followers to engage with you. When possible, add links to enable direct sales.
Focus on deep, relevant content. Tell stories, invite customers to post their own user-generated content, and encourage them to share your posts with friends and family.
Find the most active social media participants and gather their email addresses and postal addresses for future cross-channel marketing.
Use social media to announce when upcoming mail offers are on their way. Build anticipation and excitement around your promotions and deals.
Cross-pollinate your content between social media and direct mail. For example, use quotes from online reviews or social media posts in your direct mailers to give credibility ("social proof").
Direct mail and social media can be a powerful combination when used right. Need help? Give us a call!
---
5 Tips for Expanding Your Mailing Reach
Are you looking to build or expand your mailing list? If so, you have more options than just buying a targeted list or purchasing data to add to the list you already have. Here are five ways to build a great direct mail list that you might not have thought of.
Look at trade shows.
Trade shows attract a particular target audience, and they generally attract the decision-makers in the company. Attendee lists from trade shows in your market vertical can net you very high-value prospects.
Use the media.
Like trade shows, specialty magazines (including trade magazines) have well-defined target audiences, and some will sell their subscriber lists to marketers.
Tap your content marketing.
Take advantage of your content marketing efforts. If you offer an e-newsletter, ask for recipients' street addresses at sign-up. If website visitors can download white papers or case studies, ask them to fill out an online registration form and include their street address as an option.
Use Every Door Direct Mail (EDDM).
Every Door Direct Mail from the United Postal Service is an inexpensive way to target households within a specific demographic radius. Although EDDM lists do not include names, you now have qualified leads and names once people respond to your communication.
Purchase a cloned list.
Do you already have a productive direct mail list? Just want more customers like the ones you already have? Cloned lists allow you to do just that. Create a profile of your best customers, then purchase an index that reflects that profile.
These are all smart, cost-effective ways to build your direct mail list that can yield great results. Need help implementing one or more of these ideas? We can help!
---
Print Is a Fan Favorite: But Why?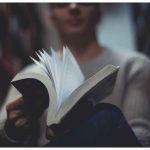 Even in a world of interactive digital media, something irresistibly draws people into the tangible world of paper and ink. But why?
What makes people fall in love with print? Here are some of the answers we have come up with. If asked the same question, what would you say?
1. Print is at the center of societal change. From the printing of the Gutenberg Bible in the 15th century to the Federalist and the Anti-Federalist papers in the 18th century, print has profoundly impacted our society. It is part of our history.
2. It enriches us. Print enriches our daily lives from the reproductions of the world's greatest paintings to the coolest T-shirts.
3. Print aids in comprehension. Studies show that people absorb and retain information more deeply in print than they do in digital media.
4. Print is fun. Print is just enjoyable to have with so many textures, finishes, and embellishments in your hands. It's one reason that sales of printed books are on the rise even with our society's addiction to mobile phones. Who wants to read Gone with the Wind on an iPhone?
5. It inspires creativity. There is something about a tangible product that breathes life into ideas. With print, creativity springs eternal.
6. Print preserves moments in time. With so much digital clutter, the tangible presence of books, marketing collateral, and even business cards, print preserves a memory—a moment in time—in ways that digital can't.
7. Print is magic. Have you ever seen the inner working of a press? A digital file becomes a printing plate, then millions of tiny dots spring to life on the page as brilliant, high-resolution images. This little miracle is replicated in every print project you order.
---
Do You Know How Customers Really Feel About You?
Think you know how your customers feel about you? So do three-quarters of companies. Yet a survey by Zogby Analytics finds that, while 73% of companies say they are "very aware" of their customers' level of satisfaction with them, 36% of consumers say that companies are either "unaware" or "completely oblivious."  That's a big gap!
Furthermore, Zogby found that companies believe that "providing better informed and relevant customer conversations" (29%) is the best thing t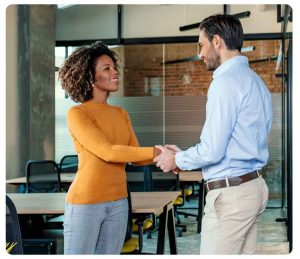 hey can do to keep customers happy. Meanwhile, customers say "identifying common issues and resolving them" (32%) and "being aware of the interactions with the company, and resulting feedback" (29%) are the most important.
These are considerable gaps in expectations, and if companies aren't careful, those gaps can create opportunities for competitors.
What's the answer? Be intentional about soliciting customer feedback to identify what you are doing well and where you might be missing the boat. If you are missing the boat, find out how customers want you to fix it.
When was the last time you sent a customer survey? There are many ways to get that request in front of your customers. Add QR Codes to your direct mail pieces, in-store signage, and other locations to lead to online surveys. Create personalized URLs for your direct mail pieces. Use pop-up surveys on your website.  Even use text to send survey links. Customers will appreciate you asking.
Offer free gifts, entry into sweepstakes, and other incentives to encourage participation, as well. Customer feedback is invaluable, and it's worth your time and investment to get.
Need help developing customer surveys? Talk to us about the many different channels you can use and how to get the most out of your investment.
---

Do You Know These 5 Loyalty Behaviors?
If you want to know whether your customers are loyal, there are five places you can look. These behaviors — called "loyalty behaviors—are like breadcrumbs that customers leave that tell you whether they are loyal to you . . . or not. These are five behaviors you want to excel in! How would your company fare in each?
Repeat purchases

.  Do you track your customers' purchases? Do you know if they continue to buy from you after the first sale? If customers are not coming back, do you know why?
Recommendations

.   Do your customers recommend you to their friends and family? Have you ever asked? A simple print or email survey can tell you a lot.
Forgiveness

.    If a mistake comes to your attention, be quick to apologize and make things right. Send a letter (always a card or letter—email apologies fall short), offer a "we're sorry" discount, or make things right another way. Use mistakes as a chance to deepen, rather than disrupt, the customer relationship.
Trust

.   Here is another place surveys can play an important role. Ask customers to rate how much they trust you on a sliding scale. Create different scales for different areas of your company (products, service, customer care). If you rank low in some areas, you know where to get to work.
Willingness to try new things

.  Happy, loyal customers buy more, and the more loyal they are, the more they buy over time. If you track your customers' purchases, you can suggest upsells and cross-sells and alert them to new offerings based on what they have purchased in the past.
Customer loyalty is serious business. Knowing these five loyalty behaviors gives you a head start on where and how to focus your efforts to communicate with your customers and keep them happy, satisfied, and buying more.
---

The 5-Year Reason Branded Promotional Products Are Hot
Did you know that more than half (57%) of people who own branded promotional items keep them for five years or more? That's an incredible statistic when you think about it. This longevity is one of the reasons that businesses are increasingly seeing the value in incorporating branded products into their marketing plans.
While many people associate branded products with cheap giveaway pens or giant foam fingers waved in baseball stadiums, they can be much more. They can be logoed caps and t-shirts to personalized flash drives, umbrellas, and leather tote bags. Branded items cost more than email blasts or direct mailings, but they are often kept for longer — not just weeks or months, but even years.
Not only do promotional products reinforce branding to the people using them, but also to those around them. Studies from the Advertising Specialties Institute (ASI) show that, in many cases, branded products increase the chances that the recipient will purchase from the company. According to the ASI's most recent Global Advertising Specialties Impressions Study:
More than half of the West and Pacific region consumers report being likely to do business with the advertiser on their drinkware (54% and 53%, respectively).
More than half (51%) of consumers report being likely to do business with the advertiser who gave them an umbrella.
Nearly two-thirds (60%) of consumers report being likely to do business with the advertiser who gave them a power bank.
The key to results like these is value. Consistently, surveys show that people keep promotional products because they are helpful, so it's essential to use high-quality branded products and match the type of product to the marketing goals of the campaign. Each time the recipient wears or uses the product, brand engagement is reinforced.
The other key to success is matching the right branded products to the target audience. For example, promotional outerwear is owned by 43% of women but 57% of men. Conversely, women are more likely to own a promotional bag (57%) than men (42%). When you get the mix right, it leads to increased sales.
Are promotional products missing from your marketing toolbox? If so, let's get that corrected right away!
---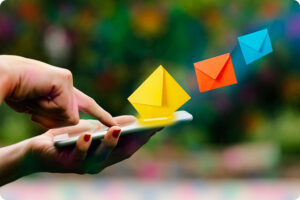 Don't Send Your Next Mailing Until You Read This
Getting ready to launch your next mailing campaign? Stop! Even if you've got the correct list, the right variables for personalization, and a "knock your socks off" design, don't forget to double-check your content. Too often, businesses send the same messaging over and over again, and even if it's still effective, it gets stale.
Here's a five-point checklist before you send your next campaign.
How many times have recipients seen these images? How many times has your audience seen the same image of your storefront? Or your award-winning BBQ? Is it time to take some fresh photos or invest in some new stock photography? Keep it fresh.
Is your message the "same old, same old"? Think beyond features and benefits. Sure, you want to talk about the need your product solves, product pricing, and how your products stack up to those of your competitors, but it's important to address how your products satisfy your customers' lifestyle needs and emotional triggers, too—and those are constantly changing.
Is one discount better than another? What's your "go-to" call to action? If a customer has been seeing "50% off" for the past two or three mailings, it's probably stale. So change it up. Try "buy one, get one free." Even though it results in the same discount, it sounds different to the customer's ear.
Get new testimonials.  When was the last time you updated your customer testimonials? If you still use the same ones from one or two years ago, your customers are probably glossing right over them. It's time to get some new ones!
Keep it simple! It's tempting to overload your direct mailer with everything but the kitchen sink. Trim it down. Use simple images, easy-to-read headlines, and clearly placed calls to action. Don't create confusion by cluttering things up.
Need help with your next direct mail messaging? Let us offer some ideas and help you test those ideas, so you know that you're mailing what really works.
---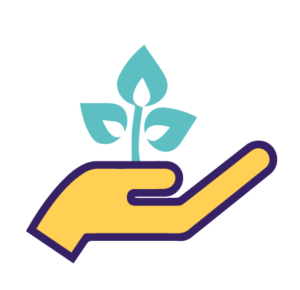 What Is Lead Nurturing? Why Does It Matter?
For some sales, a single postcard or letter mailer will do the trick. But for more complex products, the sales cycle can be longer. In this case, marketers will often send different types of content at different times based on what their prospects require in order to move forward. Gently nudging them along with the right content at the right time is a process called lead nurturing.
Although the actual number of "touches" with marketing content will vary based on the type and complexity of products and services, lead nurturing has three basic stages:
Early/Awareness Stage: At this stage, the prospect may not be aware of your product, or if they are, their knowledge is limited. Your goal is to create that awareness. They can't buy your product if they don't know about it! At this stage, you want to provide free access to content. Early/awareness stage content often includes white papers, research papers, curated content, infographics, and webinars.
Middle/Consideration Stage: At the middle/consideration stage, the prospect is aware of your product but hasn't yet made the decision to buy. You want to provide information that will help that process along. At this point, you can also start qualifying prospects as warm and hot leads so your sales team can stay in contact with them. Middle/consideration stage content is often gated, so you can identify and qualify these leads. The content might include RFP templates, calculators, guides, and analyst reports.
Late/Evaluation Stage: At this stage, you will be communicating only with the most qualified leads, so you want to make their purchase decision as easy as possible. As with the early/awareness stage, late/evaluation stage content should be free and ungated, including product demonstrations, success stories, and video testimonials.
Research shows that nearly 80% of qualified leads never convert into sales because of the lack of lead nurturing. Don't miss out!
Need help with your lead nurturing process? Give one of our experts a call!
---
Why Building Trust Is a "Must Have" Marketing Goal
Direct mail and email are for selling things, right? But what about building trust? While many marketers may not think about it, trust should be one of your top marketing goals. To understand why let's look at the example of Morningstar.
Morningstar is a financial services company that serves both seasoned and new investors. If you do an online search for "investment," you'll get a veritable "who's who" of financial services firms. How does Morningstar stand out? By using unique content. Morningstar knows that investing is scary to many people.  When you're new to investing, a list of products, services, and fees isn't beneficial. It can deepen fear about making a mistake. So the company decided to build its reputation based on trust instead.
Through various channels, Morningstar invests in content such as charts and graphs, articles about saving and investing, "how-to" blog posts, and videos from industry experts. Instead of merely telling potential investors what a mutual fund is, for example, it advises them on the best ones to research. Everything about what the company does is designed to build confidence and give investors a peek behind the curtain. This builds trust, and in a world as foreign and intimidating as investing is to many people, trust is everything.
How does trust factor into your product or service categories? Whether through direct mail, email, or on your website, what type of content would develop trust with your customers? What are their fears and concerns? What kind of content would answer their questions and set their fears to rest?
Trust helps to build the type of relationships that are less price-sensitive, more resilient from the lure of competitors, and weather uncertain times. Using drip-marketing campaigns via direct mail and email to feed your customers content that educates and guides is a huge part of building that trust.
How can we help?
Note: Background on Morningstar drawn from "'Content Is Our Business': What Morningstar's Homepage Can Teach Financial Marketers" (Contently.com)
---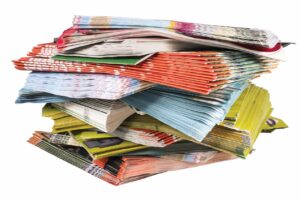 Are you still sending out the same business cards and marketing collateral from last year?
Or worse, the year before or even longer? Maybe it's time for a spring cleaning!
Critical business information changes regularly, so review and update your business materials every six months or so.
This includes:
• Products and services
• Employee contacts
• Social media links
• Branded images
• Messaging and strategic direction
Our print on demand services let you print your business collateral in short batches economically. This gives you the freedom to keep your business information fresh and up to date.
READY FOR A SPRING CLEANING? LET'S TALK!
---
Click to learn more about Promotional items and their ROI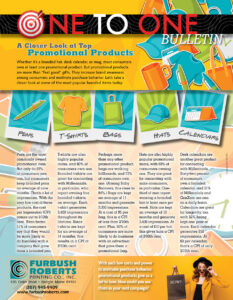 ---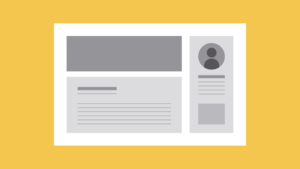 Want Better Comprehension? Format It!
Are you getting ready to send your next direct marketing campaign? Whether you are preparing to send a postcard or an email, three simple formatting techniques can make your content easier to read, comprehend, and remember. Even if you're not a writing whiz, these techniques are easy to implement, too. Every marketer can do it.
Use white space.
Whether you have a lot of space or a little, it's tempting to fill up that space with as much text and as many images as possible. Don't! Crowded areas are hard to read. Give your content some breathing room. Less crowded designs are more pleasing to the eye and get the point across more quickly.
Organize using bullets.
Bullet points are one of the most effective ways to communicate information, and people love them. Why? They accomplish a variety of goals:
They are easy to read.

They summarize points quickly.

They require minimal effort for comprehension.

They allow you to emphasize key points.

They attract attention.
Add graphics.
It has been said that a picture is worth a thousand words, and for a good reason. The human brain processes information more quickly when it is presented in visual form. Visual communication is also more likely to be remembered. It's called "the picture superiority effect."
What does this mean for you? Where you can represent concepts with charts or graphics, do! There is a reason that infographics are such a powerful — and popular — tool in marketing today.
Isn't it nice that such simple changes can get you significant results? Sometimes, yes, it's just that easy.